Tesla Gingerbread Factory
Duration
Fall '19 (8 weeks)

Skills
Brand Analysis, User Personas, User Experience, Marketing, Unity, SketchUp, AR, 3D Printing, Laser Cutting, Rapid Physical Prototyping

Overview
Tesla Gingerbread Factory is a an exciting and dynamic, yet approachable holiday experience that allows visitors to understand Tesla's role in the world as a leading renewable energy resource through both active and passive learning in a "digestible" format (haha).

An experiential space to bridge the gap between Tesla's current public perception and actual mission statement; showcasing their Solar product line, and increasing brand recognition through scale, materiality, emotions, motivations, and impulses.
Background
Tesla's mission, since 2017, has been to
accelerate the world's transition to sustainable energy.
Starting off in 2003 with initially electric vehicles, they have since taken into expanding their market towards other products, most noticeably solar energy products. Tesla currently offers the Model S, 3, X, Y, Solar Panels, Powerwall, Megapack, and Powerpack, and they offer both digital and physical services for these products.
Audience
Based on HedgeCompany's database on the Model 3 (the most sold Tesla car), consumers are generally have these attributes:
Annual income: $128,140
Median age: 46
Home ownership: 56% of the consumers own their home
Tesla has three types of consumers:
Hardcore loyal users: early adopters, and those who consider themselves to be environmental activists
Fad users: people who embrace mass consumerism, and enjoy being on trend.
Switchers: People who are loyal to Tesla's values and it's positive influence, but are willing to switch over to more affordable deals.
Brand Analysis and Key Insights

Telsa is striving to make sustainable and resourceful solar energy a commonplace, rather than a priveledge.
Tesla prioritizes its pursuit for a standardized clean energy at any cost.
Tesla brings the power of control and knowledge of your car and energy, at your fingertips.
Opportunity Space

Tesla is striving to make sustainable and resourceful energy a commonplace, rather than a privledge.

Currently, the perception of Tesla is that it is very futuristic, hard to approach, expensive, and unfamiliar. This societal perception of Tesla is, in many ways, counteractive of what Tesla is striving towards -- which is to become more integrated with everyday use of energy, and ultimately help sustainable energy be more of a familiar commonplace. Tesla is also currently almost only associated with its car products, with very few people aware of their growing solar power line.

Therefore, for my particular pop-up campaign, I wanted to re-orient Tesla's current perception of "luxury", and "unapproachable", and highlight their mission statement in accelerating the world to sustainable energy, which is an aspect of Tesla that helps them distinguish themselves from many other car-focused corporations.
Site Location Analysis

This temporary pop up site is planned to travel to several different cities across the United States during the weeks leading up to the holiday season.
The first of it's stop was to be in Pittsburgh. As a diverse city, there were three specific areas that I looked more into in regards to demographics, recreational events, foot traffic, and natural affordances when narrowing down which would be the chosen first destination.
I ultimately chose Point State Park, Pittsburgh as my location for several reasons:
ability to harness the greatest amount of sunlight due to unobstructed paths
ability to target an ideal demographic (younger, working individuals who are at the transition of making larger investments in their life)
ability to generate a lot of foot traffic without congesting the area and/or surroundings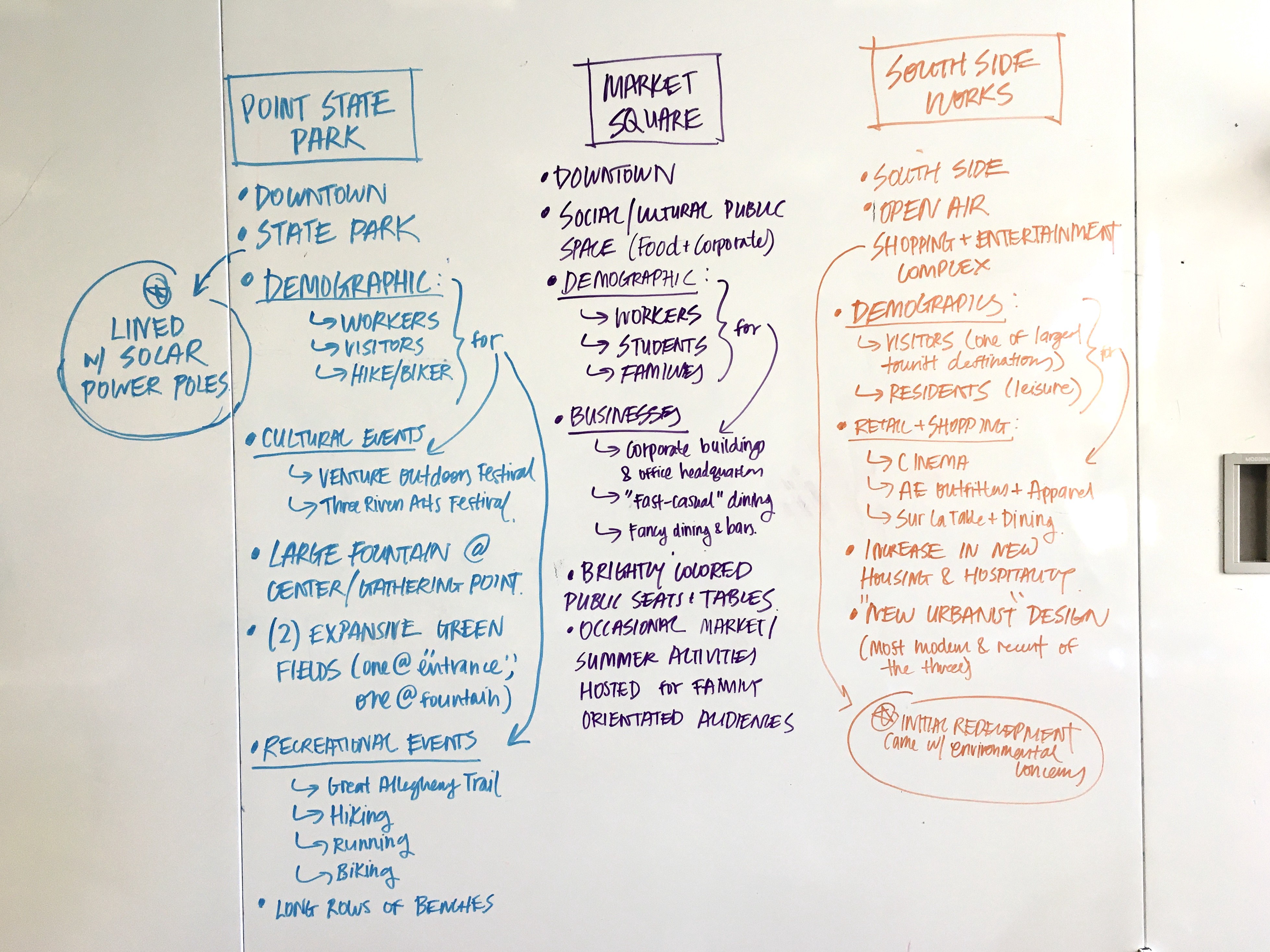 Pop-Up Experience: The Tesla Gingerbread Factory

Tesla Gingerbread Factory is an
approachable, conversational,
and
spirited
pop up for the holiday season.
In the most familiar sense, it can be boiled down to three things:
an open kitchen
a train set
the Tesla Gigafactory
The pop up experience will be powered by Tesla solar panels during the daytime, and run on excess power generated using the Power Wall during the nighttime.
Types of Engagement
ACTIVE:
Decorate your own gingerbread cookie, following its journey in the making, and understanding the processes of solar energy consumption with each step along the process through projected information on the glass sneeze-guards, and accompanyed information through visiting the Tesla website.


PASSIVE:
Simply go through the pop-up to observe the train set system, and open kitchen from afar.







TAKEAWAYS - Tesla Solar Panels and Power Wall:

Both the active and passive experience of Tesla lead to the hero wall on the other side of the entrance, in which houses and calls to attention a brief descriptor on the Solar Panel and Power wall.
Digital Renderings
Physical Prototypes


Read more about my process here.